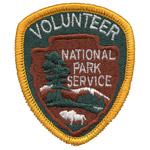 One month from today will be my first "official" day as an intern at Gettysburg National Military Park. Just this past Friday, I received my uniform and straw hat for the job. I still have to get the volunteer patches sewn onto them. And yes, the packing has already begun - everything from toothpaste to extension cords. My biggest dilemma is what to do with my vast collection of Gettysburg books (about 40) I was planning on taking with me. It would be nice if there were shelves at the place but I really have no idea about my upcoming summer home other than its outdoor appearance, so we will see. There will be four other guys living there with me (we three from Gettysburg NMP and two from the Eisenhower Farm). The lady interns reside at another location on the other side of town. I'm really looking forward to meeting all the fellow interns in the coming weeks. I think I'll be working alongside many talented students. Another special event of interest will be the Seasonal Luncheon at the Eisenhower Farm. At this event, we seasonal guides get to meet many of the park employees. I know a few already, but I am very much looking forward to meeting some more.

In a sligtly related topic, I saw that visitor attendance to the Gettysburg area rose to 3 million this year. At the same time, park visitation dropped to 1.5 million. Quite a paradox, isn't it?



Gettysburg Visitation up in 2008


By Erin James
The Evening Sun
The econ
omy didn't scare visitors away from Gettysburg last year after all. But they did end up spending a little less than the year before. According to a study released Wednesday by the Gettysburg Convention and Visitors Bureau, more than 3 million people visited the tourist town in 2008. That's a slight increase from the 2.9 million visitors in 2007 - the first year California University of Pennsylvania's Tourism Research Center conducted the study.
"The numbers weren't surprising to us," bureau spokesman Carl Whitehill said. "But we're very happy that we grew a little bit last year, given the state of the economy." Hotel occupancy rates were up 8.3 percent in 2008, despite concerns that high gas prices and a struggling economy would deter people from visiting Gettysburg, Whitehill said.
While the economy may not have kept people away, it could account for why an average visitor spent $10 less in 2008 than they did in 2007. Visitors spent an average of $288.52 during their trip in 2008. Because the visitors were still in town, Whitehill said, Gettysburg restaurants and hotels fared well last year. But "a lot of people spent less on souvenirs," he said.
Also significant in the study was a finding that nearly 7 percent more visitors turned a single-night stay in the Gettysburg area into a multiple-night stay. That's key for the visitors bureau, which has been working to change Gettysburg's perceived status as a "drive-by destination," Whitehill said.
"We were able to convert a lot of day trippers and one-night stays into multi-night stays," he said. At the same time, however, the number of day trips and one-night stays decreased. Tourism is Adams County's top industry and brings in more than $332 million annually, according to the visitors bureau.
The California University of Pennsylvania study was conducted by surveyors who asked Gettysburg tourists questions about their stay. Those answers were compiled and account for most of the data. Before the study was first conducted in 2007, the Gettysburg Convention and Visitors Bureau had no way of tracking annual visitation rates.